Kozminski University defended its last year's, 37th place in the main business school ranking of the "Financial Times" - the Best European Business School ranking. KU is the only Polish institution that has made the "FT" listing this year.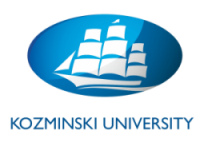 The latest "FT" ranking, published on December 2, 2013, includes 75 top European business schools. Most universities represent the UK (21) and France (18). Two schools, HEC Paris, the oldes business school in Europe, and IE Business School from Spain, have tied for number one, followed by London Business School and Esade Business School (Spain), ranked 3rd (also in a tie), and INSEAD of France, ranked 5th.
Kozminski University has been listed in the "Financial Times" main ranking for the 5th year in a row. Since its debut in 2009 it has advanced to 37th place in 2012 and 2013.
Our presence in the "Financial Times" ranking is an element of Kozminski University internationalization strategy and openness to students of other countries - says Prof. Witold Bielecki, the Rector of ozminski University. - We are the highest ranking university in our region of Europe, the only one from Poland. We have a chance to advance even further once "FT" decides to include results of their Global Masters in Finance Ranking within the list of criteria for the Eropean Business Schools ranking, as our master program in finance ranked 19th in the world this year.
The rank in the main "FT" ranking depends on results of the chosen partial rankings published by "FT" throughout the year, including the Global Masters in Management, full time MBA programs (which are not offered by any university in Poland) and part time Executive MBA ranking, as well as other executive education programs. Experts at "FT" send questionnaires to alumni of the chosen programs and based on their statements they evaluate their career development, including their current position in the structure of their organizations and income 3 years after graduation. Criteria also includes quality and diversification of faculty.
The university, which decides to undergo such external evaluation process does not take part in the evaluation and it does not have to pay for it. Hence "FT" rankings are considered to be trustworthy and candidates often use them as the basisi for their decision to choose a specific university. Therefore, an increased number of universities aspire to become part of the listing. "Financial Times" announced previously, that only those institutions, which hold at least two of the three most prestigious international accreditations EQUIS, AACSB and AMBA, which are recognized as the standard for evaluating quality of services provided by business schools, will be included in the ranking. This year 6 business schools celebrated their debut, each of which holds the above mentioned accreditations.
The "FT" ranking is an ideal tool to compare achievements of universitieis. It also provides a valuable chance for relatively young but ambitious players, also those from Central and Eastern Europe, to mark their presence to an international scale. Aside from Kozminski University, founded only 21 years ago, the ranking also lists St. Petersburg State University Graduate School of Management (debut on 74., also founded merely two decades ago), and Prague University of Economics (75. place).
Kozminski University is the leader of internationalization on the Polish educational market, with the highest ratio of international students enrolled to full time programs (30%). A thousand international students from 64 countries study here this year. Next to a stron Managment and Finance College the university also includes a Law SChool, which delivers and five-year master program and this spring semester launches the first international school of Indian law.